NO MEDICAL EXAM Accelerated Underwriting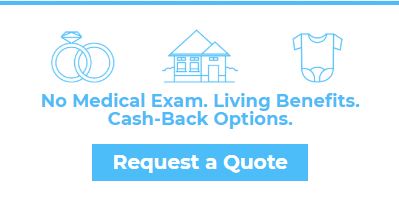 Nearly half of American consumers prefer non-medical underwriting.1 Clients who want affordable life insurance with a more efficient, non-invasive process, will be wise to research these options.
Accelerated Underwriting Products
Life insurance companies such as National Life Group (NLG) offer accelerated underwriting to qualified applicants. This means you may be eligible for their best class without the need to complete medical requirements (blood profile, urinalysis, paramed exam, and EKG).
They have accelerated underwriting available to applicants 18-50 applying for face amounts up to and including $2,000,000 and applicants ages 51-60 applying for face amounts up to and including $1,000,000 and applicants ages 61-65 applying for face amounts to $250,000.
NLG's rates are extremely competitive and on par with fully-medically underwritten programs and they offer "Living Benefits" to qualified applicants as well.
What Do You Need To Know?
Every company that offers accelerated underwriting will review the application containing your financial and medical information. The information will be cross-referenced with several databases used for your risk assessment such as:
Medical Information Bureau (MIB)
Millimen Inttelliscripts Prescription Database
Motor Vehicle Report
Lexis Nexis Risk Classifier a third-party data aggregator of FCRA compliant information (not every carrier uses this risk classifier)
Other companies such as Sagicor Life Insurance Company Offer Accelerated Underwriting and they have a proven track record.
100% issued without a paramed exam
100% issued without a telephone interview
73% receive an underwriting decision in 5 days or less
36% receive an underwriting decision in 2 MINUTES or less
60% receive standard, preferred or preferred plus (non-tobacco and tobacco) underwriting offers
We will take the time needed to understand your individual life insurance needs to align you with the best policies at the best rates with options like
No Medical Exam, Return of Premium & Living Benefits.