An Overview of Annuities
ANNUITIES WILL HELP YOU PROTECT YOUR RETIREMENT SAVINGS & GROW YOUR INCOME
Let's Talk Retirement & How Investing in Annuities Minimize Your Risk While Maximizing Your Peace of Mind. You've lived with risk, don't retire with it!
Retirement in America Is Changing by Jim Poolman, Executive Director of The Indexed Annuity Leadership Council
Did you know that an annuity is a contract between you and an insurance company, under which you make a lump-sum payment or series of payments? In return, the insurer agrees to make periodic payments to you beginning immediately or at some future date. Annuities typically offer tax-deferred earning and may include a death benefit that will pay your beneficiary a guaranteed* minimum amount, such as your total purchase payments.
Unlike retirement plans, there is no limit to how much money you can put into an annuity!
Annuity Basics Made Simple in 4:30 Min
Fixed Indexed Annuity Basics Continued...
Because of these features, the value of your money will never decline for as long as it is in the annuity. But it can increase with a rising index, offering growth potential. Once interest is credited, it can never be lost due to interest rate adjustments or negative market fluctuations, and it may even compound.
Indexed annuities offer low risk, guaranteed income, and protection for market ups and downs. Watch our testimonials on this page to learn more about the benefits of indexed annuities from people like you.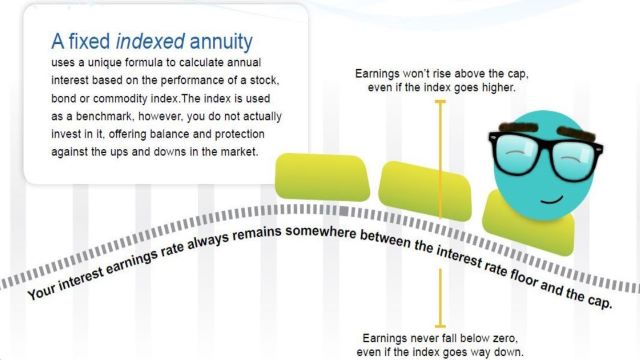 Four Additional Annuity Educational Videos
See if fixed indexed annuities (FIAs) are a retirement savings vehicle that will help round out your financial portfolio. Watch four quick videos for a complete overview.
Video #1: How to Tell FIA Facts From FIA Fiction
Calculating goals, reevaluating strategies, and adjusting contributions are just as essential as lifestyle changes before and during retirement. Discover the b…
Video #2: Are You Planning on Income to Last a Lifetime?
When thinking about retirement, what is needed for a secure and comfortable ride? Understand how fixed indexed annuities (FIA's) help to provide predictable income.
Video #3: Questions to Ask When Purchasing a Fixed Indexed Annuity
When deciding if a fixed indexed annuity (FIA) should be part of your strategy, consider asking a financial professional these suggested retirement-related questions.
Video #4: Learn the need-to-know basics of fixed indexed annuities (FIAs) in three and a half minutes
5 Fixed Indexed Annuity Myths Busted!
To determine if a fixed indexed annuity is right for you, it's important to have full knowledge of how they work and how they may fit into your overall retirement plan. Understanding some common misconceptions about these unique financial products is a step in that direction.
1.Myth — Annuities are full of hidden charges.
Like mutual funds or any managed money solution, the indices used in index interest crediting strategies may include management fees. Insurance companies employ caps, participation rates, and spreads to limit the interest credited in exchange for protection from stock market risk or losses. There may be a charge for riders.
Financial professionals and the insurance company that issues the contract must disclose any and all fees associated with annuities. They must clearly explain withdrawal charges, which may be incurred if the client surrenders the contract during the withdrawal charge period or withdraws money beyond the penalty-free amount allowed in the contract.
2.Myth — Annuities are not taxed efficiently.
Annuities are long-term, tax-deferred products and can be a valuable solution for those looking to grow their retirement savings. Annuity earnings will grow on a tax-deferred basis until you begin taking withdrawals or surrender the annuity.* Over time, you will have the potential to build more retirement savings than you would have been able to have your earnings been taxed as income. However, there is no additional tax benefit associated with funding an annuity from a tax-qualified source like a 401(k) plan.
3.Myth — Annuities can't keep up with inflation.
Income riders frequently offer payout rates that are indexed to inflation. This can help you keep pace with the rising cost of goods and services.
4.Myth — Annuities are not liquid.
In most cases, deferred annuities allow you to withdraw up to a specified percentage of the contract's accumulated value each year during the withdrawal charge period without any charges. Once the withdrawal charge period has ended, funds may be withdrawn without any charges. Keep in mind that fixed indexed annuities are designed to meet your needs for long-term retirement savings and income.
5. Myth — Fixed indexed annuities are investments.
Fixed indexed annuities are insurance products that are designed to help you manage certain financial risks associated with retirements such as volatile markets, falling interest rates, and longevity. They do not directly participate in any stock or equity investments.
Let's Retire Your Risk, Not Your Hard Earned Gains!
Herbert Whitehouse, who invented the idea of the 401k (403b,457b, 403b, I.R.A) 35 years later are like "oops, that was a bad idea." Yea thanks, fellas! I think we figured that out on our own! But thanks for being honest 35 YEARS LATER! Unbelievable. Truly unbelievable! That's not even the worst part, the worst part is many of you will still see this and continue to own one though the ones who created are telling you it was a bad idea and regret creating it!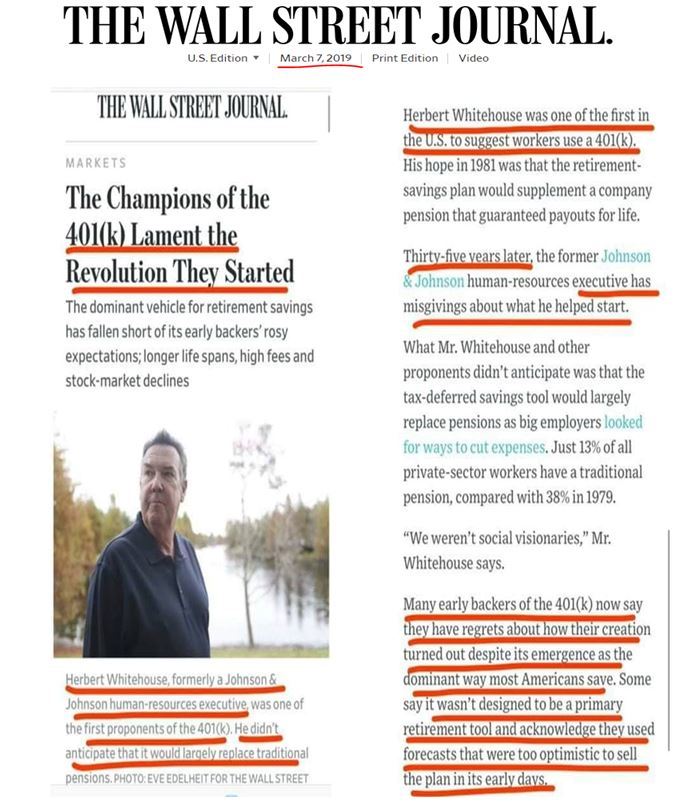 SEE FULL ARTICLE: https://www.wsj.com/articles/t...
Consider Rolling Over 401K or I.R.A Into a Fixed Indexed Annuity TODAY!
It makes sense that people may be apprehensive to purchase something they may not fully understand. But, if you are looking for a way to supplement your retirement portfolio with a product that can help lead you toward the happy and secure retirement you dream of, then contact me Today For a FREE consultation and let's discover together how a properly structured Fixed Index Annuity can round out your retirement plan.
Let's Retire Your Risk, Not Your Hard Earned Gains!
Some facts to consider:
Timing of payout – immediate or deferred: In an immediate annuity, the annuitant (you) begins receiving payments immediately after purchase. This is for individuals who need immediate income from their annuity. In a deferred annuity, payments begin at some future date, usually at retirement.
Investments by Insurers – fixed or variable: Insurance companies invest annuity assets in government securities and high-grade corporate bonds. They offer a guaranteed* rate, typically over a period of one to ten years. Variable annuities provide you more control over where your premium goes, such as securities portfolios, fixed interest accounts, and money market securities.
Liquidity options – An annuity may allow you to withdraw either your interest earnings or up to 10% per year without a penalty (although any withdrawal from an annuity may be subject to taxes and a 10% federal penalty if taken before age 59 1/2).
Before You Decide:
If you are considering purchasing an annuity call us to discuss the following:
The rating of the insurance company (indicating their financial strength) issuing the annuity, particularly in the case of a fixed annuity.
Understand the fees you will pay.
Understand that if you are considering a withdrawal from an annuity it may be subject to taxes and a 10% federal penalty if taken prior to 59 1/2 years of age
For additional information about annuities, you can visit www.sec.gov/answers/annuity.htm (If you cannot access this information online, contact us to request a copy.)
* Annuity guarantees rely on the financial stability and claims-paying ability of the issuing insurance company.